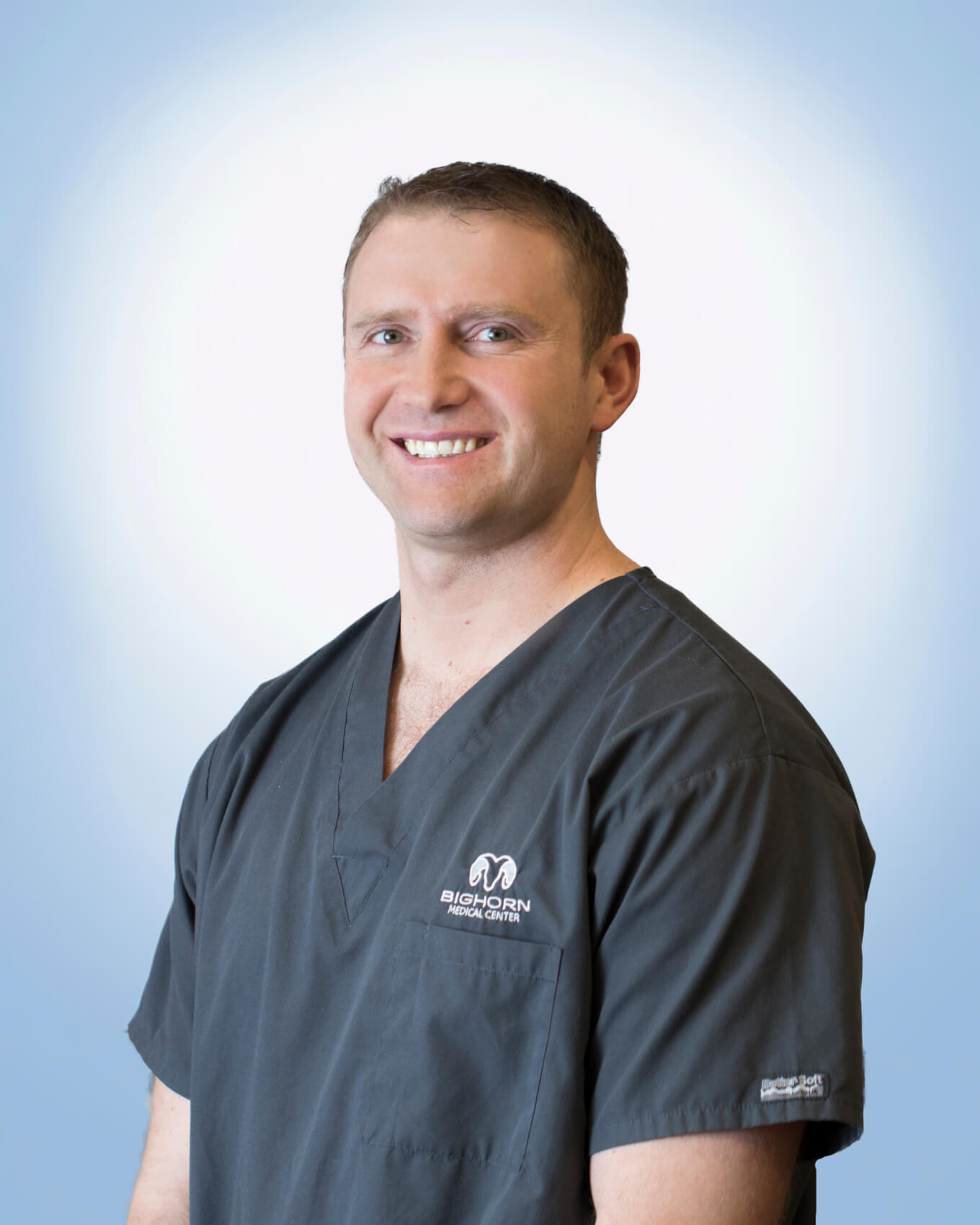 Shoulder & Sports Medicine Specialist
Diplomate of American Board of Orthopaedic Surgery
Phone: (307) 578-1955
Toll free: (866) 414-1955
Additional Qualifications

Peer Reviewed Publications focusing on orthopedics sports medicine in Techniques in Shoulder and Elbow Surgery, Operative Techniques in Sports Medicine, Journal of Pediatric Orthopedics, Foot and Ankle Surgery, Techniques in Arthroscopy, and Current Management of Shoulder and Elbow Trauma.
American Academy of Orthopedic Surgeons
American Orthopedic Society for Sports Medicine
Arthroscopy Association of North America
American Medical Association
Bio
Dr. Jared Lee has studied and practiced orthopedic medicine all over the world and now brings world-class care to the Bighorn Basin.
"I'd like to be able to provide the same quality of care people would find in Boston, or in L.A., or in New York City, here in Cody."
Dr. Lee joined Bighorn Medical Center in 2013 after earning his fellowship in advanced orthopedic sports medicine at the prestigious Steadman Clinic in Vail, Colorado. Prior to his fellowship, Dr. Lee completed his residency in the Harvard Combined Orthopedic Residency Program, serving as Administrative Chief Resident at Massachusetts General Hospital.
While at Harvard, he also instructed the resident anatomy course and received the award for the highest average score on the annual orthopedic written examination. Previously, he graduated with Honors from the University of Washington, where he was elected to the medical honor society Alpha Omega Alpha as a junior.
Dr. Lee's dedication to excellence in medicine stems from a genuine desire to serve others.
"Everyone's desire in life is to make a difference in the world, and I feel medicine is a good way to be a positive, contributing member to the greater societal good," he shares. "You can help people. It's rewarding to see that."
Dr. Lee first understood the potential for doctors to directly impact lives from a patient perspective. At age 14, his body became completely paralyzed for 10 days as a result of Guillain–Barré syndrome, an autoimmune disorder that causes the immune system to mistakenly attack the nervous system.
Dr. Lee's older brother, a medical student at the time, discovered a new treatment being used in Europe to fight the disease. He passed this research on to their father, who passed it on to the attending neurologist, who, with few other options, agreed to try it out.
"Three days later, I was sitting up and walking," Dr. Lee remembers. "That was very meaningful to me. It made me appreciate that doctors have a very unique relationship with people and with society."
Though he knew he wanted to help others, Dr. Lee was not always sure it would be through medicine. He played football at Ricks Junior College in Rexburg, Idaho, where he grew up, serving as team captain for the 1998 season and earning NJCAA Academic All-American as well as NJCAA 2nd All-American at Defensive Back. He went on to play for the Brigham Young University Cougars, acting as team captain for the 2000 season and earning NCAA First Team Academic All-American, MWC First Team Academic All-Conference, and
He went on to play for the Brigham Young University Cougars, acting as team captain for the 2000 season and earning NCAA First Team Academic All-American, MWC First Team Academic All-Conference, and Sporting News and Las Vegas Review 1stTeam All-MWC defensive back.
He graduated Magna cum laud from BYU in 2001, honored as one of six Division I college football players to receive the National Football Foundation and College Football Hall of Fame postgraduate scholarships – other awardees that year included Drew Brees, Kyle Vandenbosch, and Chris Weinke. Dr. Lee ended his football career at the apex of the game, playing in the NFL as a free agent for the Cincinnati Bengals.
With such a staggeringly successful run in sports, it is not difficult to see why Dr. Lee considered coaching football as a career. Although he found medicine more meaningful as a life calling, football lessons continue to come into play.
"There's a lot of adversity in the microcosm of sports," Dr. Lee says. "It teaches you to work hard, have confidence in yourself, become goal-oriented, and not to give up or get intimidated. You have to stay focused."
Dr. Lee has found the ideal combination of his skills and knowledge in sports medicine. He cares for athletes globally as a covering physician for the U.S. Ski and Snowboarding team, having covered events in New Zealand, Chile, Canada, and Austria. He also practices here in Cody as the team physician for the Yellowstone Quake Junior Hockey Team.
Dr. Lee lives in Cody with his wife, Niki, and their five children. Together, they love to stay outside and active, rifle and bow hunting, fly fishing, skiing, snowboarding, road biking, and more. Though something deeper than the outdoor opportunities alone drew the Lees to this area.
"It's the sense of independence here," Dr. Lee explains. "My wife and I were told this would be the right place for our family because the people who live here really like Cody and they really take pride in this place."
Dr. Lee noted a need in Cody for more advanced sports medicine care and sensed his drive for betterment matched the environment at Bighorn Medical Center.
"I was impressed with Dr. (Frank) Schmidt's continued emphasis on staying up to date and trying to continually progress by using technology to improve patient care," says Dr. Lee.
Now Dr. Lee seeks to continue his aptitude for excellence at Bighorn Medical Center by providing patients with an unsurpassed quality of care.
"My goal for my clinic is to make it the best patient experience they can possibly have, knowing they are getting care from someone who is very good at what they do," Dr. Lee emphasizes. "I want our patients to feel – Wow! They provide great care, they really know me as a person, and they want to do the best possible thing for me."
Dr. Lee's Specialties
Total Shoulder Replacement
Reverse Total Shoulder Replacement
Shoulder Revisions
Knee & Hip Replacement
Knee, Shoulder & Shoulder Scopes
Rotator Cuff Repairs
PCL/ACL Repairs
Multiligamenous Knees
Wrist & Hand Surgeries (Carpal Tunnel Release, Cubital Tunnel Release)